Games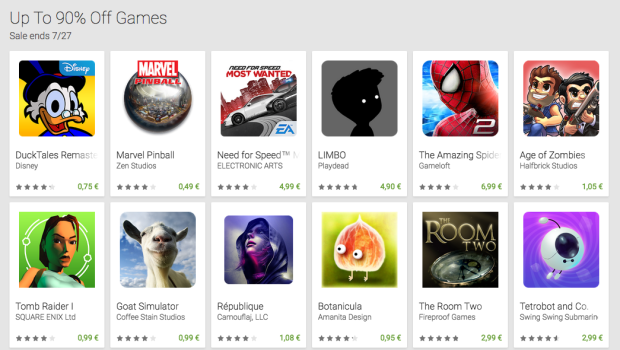 Published on July 25th, 2015 | by Thomas Jung
0
Google Play Game Sale Until July 27th
Google puts some great games on sale this weekend, with discounts up to 90% off for a limited time. Between now and July 27th, 2015, 22 games are on sale.
Games currently on sale at up to 90% off:
Ducktales: Remastered $0.99
Fotonica $0.89
Republique $0.99
Tetrobot and Co. $0.99
Tomb Raider $0.10
TheDark Knight Rises $0.60
Hitman GO $0.75
Age of Zombies $0.10
Marvel Pinball $0.49
The Amazing Spider-Ma 2 $0.99
Goat Simulator $0.99
Limbo $0.99
God of Light HD $0.99
Botanicula $0.99
NBA Jam $0.60
The Room 2 $0.69
Monument Valley $0.99
Valiant Hearts: The Great War $0.99
Unium $0.19
Game of Thrones $0.99
Almightree: The Last Dreamer $0.99
GTA: Chinatown Wars $0.99
It´s a pretty awesome choice with a lot of quality, so you can´t go wrong with any of these. GTA for 99 Cent for example- this probably will never happen again!