Apps
Published on August 21st, 2013 | by knicket
0
6 GREAT AND FREE ANDROID GAMES – but with style
Really great game apps do more than kill hours: They kill days of your life and fill them up with fun. The Android market has tons of free games but we picked a handful of inspiring games with quality style and great design. The best thing about these game apps is that they are top notch, unbeatable and highly popular games and the most amazing thing of all is that they are absolutely free as well.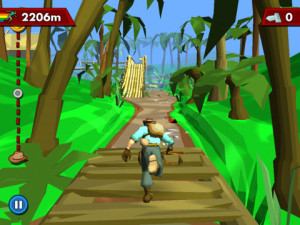 1.Pitfall:
Do you remember Pitfall? Yes that was exactly thirty years ago. Well it's back now for you tablet! A thrilling and exciting game app best for those who love adventure / jump and runs. It features character Harry who has to jump over obstacles such as swamps, traps and mines. The player has twenty minutes to play the game with three lives, unlike the old one it's now set in a simplified 3D world. Get 2000 points to start the game with and accumulate more points by collecting gold bars, money and diamonds.
2.Dead on arrival:
Dead on arrival combines surviving zombie waves with strategic formation of ammunition. Zombies come in all forms, keep killing them and gather weapons. The game has superb graphics and packed with excitement. As the zombie waves grow in number larger and stronger weapons are required in order to kill them. Downfall is that weapons require purchasing.
3.Pew Pew:
A cool retro quality multi shooter arcade style game, combining elements of the classics Asteroids and Tempest. It has three different modes of play you can select from. In Assault mode you shoot anything that comes in contact or within close proximity. In the Dodge mode you have to dodge objects and shoot. Game play experience is phenomenal and the music is also extraordinary. In chromatic conflict mode you have to only shoot certain colours without shooting others.
4.Friction mobile:
An addictive game with fascinatingly simple graphics and gameplay. It can be regarded as a brain or puzzle game. In order to play, you have to tap the trackball to launch an orb. Scoring points is possible by shooting three stationary orbs. You lose the game if you ricochet orb back across the dotted line.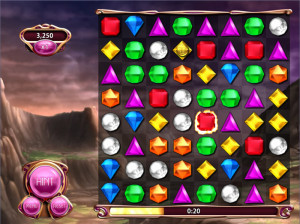 5.Bejeweled Blitz:
So why is Bejeweled Blitz in this list? Because it's one of Marissa Meyers favorites and she has taste as you've seen in the latest VOGUE. You've got sixty seconds to line up as many similar bling bling jewels as possible by shuffling them which automatically get destroyed, the minimum jewels required to be lined up being three. Lining Three jewels up boosts score but lining four or five provides higher points and boosts. Special power Boosts such as cat, monkey and monsters can be unlocked after accumulating coins earned by playing games, which increases chances of scoring extremely high and achieving a high rank amongst other players in subsequent games. Needless to say, it's a girls thing.
6.Run My Deer:
An amazing and unique game that stands out from rest of the running theme games with its stylized, simple design. No purchase of add ons is required. In the game players have to save the deer by making it run as fast as possible while avoiding four different types of enemies. In the game there are also boosts such as skipping the first 600 meters and 20% more running speed. Three different worlds and various random levels are available. Compete with rest of the world as world ranking is available.